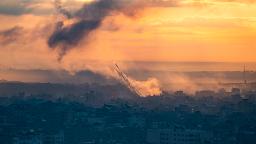 When President Joe Biden touches down in Israel for a high-security wartime visit, his focus will be on managing a complicated situation and less on securing clear deliverables, according to two sources close to the matter. It's a clear signal of the White House seeking to manage expectations after a major portion of the trip was scrapped at the last-minute. 
The presence of Biden, who places a premium on personal diplomacy, is meant to show solidarity with the United States's closest allies and to deter rogue actors in the region from opening up a second front in the war. 
But the sudden cancelation Tuesday night of a major summit with Arab leaders in Jordan posed additional challenges for the president, who had hoped to return to the US after having firmly established a way for humanitarian aid to enter Gaza. 
The visit to Israel carries significant risks – both physical and political – with active conflict and asymmetric information.  
A blast at a Gaza hospital Tuesday that Palestinian officials say left hundreds dead led to a last-minute briefing by the president's top national security advisers and a phone call with Secretary of State Antony Blinken, who is still traveling in the Middle East, to assess the intelligence available.
But no conclusion was drawn about who was behind the attack, CNN has learned, with the president instructing his team to continue evaluating the available information. 
The blast – which led to the cancellation of a summit between Biden and Arab leaders in Jordan – was always seen as a possible, and to some extent even probable, risk of such a visit, and the president's team concluded that the merits of the trip outweighed those risks. 
Even as conflicting claims were coming in about who was responsible for the devastating hospital blast in Gaza and the second half of Biden's trip was scrapped altogether, multiple sources told CNN that the president's top advisers did not come close on Tuesday to canceling the Israel portion of the trip. 
"We wouldn't be making this trip if we didn't believe we could do this in a safe and efficient manner for the President," National Security Council spokesman John Kirby told reporters on Air Force One en route to Tel Aviv. 
The president will be meeting with Prime Minister Netanyahu and his War Cabinet to glean information about what security assistance the US can provide, and he will be assessing the humanitarian situation – with discussions continuing about sending aid into Gaza and allowing refugees to cross through the Rafah crossing into Egypt. 
Despite ongoing discussions with Israel and other partners, sources downplayed the expectation that the visit would result immediately in a refugee deal or the release of American hostages in Hamas custody.