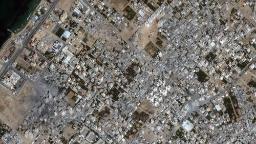 A top Palestinian telecoms provider said it suffered a "complete disruption of all communication and internet services" in Gaza on Friday as Israel continued to pound the coastal enclave with airstrikes in as the Israel Defense Forces announced it is "expanding ground operations."
Independent internet monitoring groups told CNN it was the worst internet blackout in Gaza since the latest war between Israel and Hamas began on October 7, raising fears that Palestinian civilians will be unable to communicate with the outside world as the war escalates.  
"We regret to announce a complete disruption of all communication and internet services with the Gaza Strip in light of the ongoing aggression," the Palestine Telecommunications Company, known as Paltel, said in a Facebook post on Friday evening local time. Paltel provides internet and cell service in Gaza and the West Bank.
"The heavy bombardment of the past hour has resulted in the destruction of all remaining international paths connecting Gaza to the outside world," Paltel said on Facebook. "This destruction is in addition to the paths that were previously destroyed during the ongoing aggression, which has led to the interruption of all communication services from our beloved Gaza Strip."
It could take days, if not longer, for Gazans to restore internet connectivity on a broad scale given the ongoing bombardment and humanitarian crisis in Gaza, said Doug Madory, director of internet analysis at Kentik, a California firm that monitors online connectivity globally.
Madory said the current outages are "probably the worst that Gaza has ever experienced."
"The Gaza War in 2014 experienced [internet] outages but it was nothing like this," Madory told CNN.
NetBlocks, an internet monitoring firm based in London, told CNN that the outage on Friday marked a "turning point" in Gazans' ability to "keep the outside world informed on the situation on the ground."
"Today's incident is the largest single disruption to internet connectivity in Gaza observed since the beginning of the conflict," NetBlocks claimed.