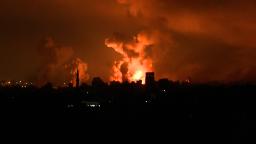 The UN warns "civil order" is deteriorating in Gaza after weeks of siege and bombardment, with people breaking into warehouses to take survival essentials.
Here are today's top headlines:
More on the warehouse break-ins: The United Nations World Food Programme said some of its aid supplies were looted in Gaza and warned of "growing hunger and desperation" in a news release Sunday. The United Nations Relief and Works Agency for Palestine Refugees in the Near East said earlier Sunday that "thousands" of people had broken into some of its warehouses and distribution centers in the central and southern areas of the strip, "taking wheat flour and other basic survival items like hygiene supplies."
The UN Security Council will hold an emergency meeting Monday: The United Arab Emirates, the only Arab country with a seat in the UN Security Council at the moment, will seek a binding resolution from other Security Council members for an "immediate humanitarian pause" in the fighting, sources said. Earlier this month, the United States vetoed a draft resolution at the UNSC which called for a humanitarian pause. 
Gaza's second-largest hospital suffers extensive damage: Israeli airstrikes have "caused extensive damage to hospital departments and exposed residents and patients to suffocation" at the Al-Quds Hospital, the Palestinian Red Crescent Society said Sunday, accusing Israel of "deliberately" launching the airstrikes next to Gaza City's second-largest hospital "with the aim of forcing the medical staff, displaced people, and patients to evacuate the hospital." The organization said it has received a warning Sunday from Israel to immediately evacuate the hospital ahead of possible bombardment, which the World Health Organization has said would be "impossible" without endangering patients' lives.
Israel appears to have advanced over two miles into Gaza: The troops in the video, taken on Saturday, are seen putting an Israeli flag on a Gaza resort hotel's roof. CNN geolocated the video to an area just over two miles from the Gaza-Israeli border. The video is one of the first glimpses into where Israeli ground forces have been, and what they've been doing, during the expanded ground operations in Gaza. A communications blackout in Gaza has significantly hampered the flow of information out of it, though providers said service was gradually being restored Sunday.
Iran says Israel has "crossed the red lines" in Gaza: Iran's President Ebrahim Raisi said Sunday Israel's actions "may force everyone to take action." There are concerns that Israel's fierce military campaign in Gaza will open up more fronts. There is already crossfire exchanges on northern Israel and southern Lebanon border — separate from Israel's fighting with Hamas farther south, which is centered around Gaza. But an uptick in clashes with Hezbollah has raised fears that the powerful Lebanese paramilitary group could actively participate in the conflict. It comes as the US national security adviser warned of an "elevated risk" of the war expanding into a broader Middle East conflict.
Aid trucks cross from Egypt into Gaza: The Palestinian Red Crescent said it received 10 aid trucks via the Rafah border crossing, stating that the trucks contain "food supplies and medical necessities. The total number of received trucks so far has reached 94, while fuel has not been allowed to enter yet. Meanwhile, Doctors Without Borders said it has sent 26 tons of medical supplies on a plane to Egypt to support the emergency medical response in Gaza.
Gaza death toll rises further: The death toll in Gaza has risen to 7,960, the Palestinian Ministry of Health in Ramallah announced on Sunday, drawing the data from sources in the Hamas-controlled enclave. More than 20,000 have been injured, the ministry said. Nearly three-quarters — 73% — of those killed are from vulnerable populations, including children, women, and elderly individuals, according to the ministry report, which adds that the total number of dead includes 116 medical personnel.
Video shows destruction at mosque and houses in a Gaza refugee camp: Video, obtained by CNN from a Gaza-based journalist, shows the aftermath of the destruction of a mosque and adjacent houses in the Al-Nuseirat refugee camp in central Gaza on Sunday. There is a large amount of destruction at the site of an airstrike, with people searching through the rubble to look for survivors.  
US pressured Israel to restore connectivity in Gaza: After phone and internet service was severed late last week, civilians, aid groups and journalists were left without any means of communicating with the outside world. Service appeared to be gradually restored on Sunday. "We do feel strongly that the restoration of that communications was a critical thing," US national security adviser Jake Sullivan said. "Because aid workers need to be able to communicate, civilians need to be able to communicate, and of course, journalists need to be able to document what is happening in Gaza to report it to the wider world."