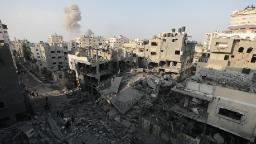 A female Israeli soldier who was kidnapped by Hamas on October 7 has been rescued during ground operations in Gaza, the Israel Defense Forces said Monday.
An IDF spokesperson said they initially misspoke when they said she had been released from Hamas. The initial IDF announcement was a translation error as she had been "actively rescued" with "boots on the ground" in a joint operation between the IDF and the Israeli Security Agency (ISA), or Shin Bet, IDF spokesperson Lt. Col. Jonathan Conricus told CNN's Anderson Cooper on Tuesday local time.
"Based on intelligence" the Israeli special forces went into northern Gaza knowing her whereabouts and rescued her, Conricus said.
"They were in there for a job," Conricus said adding that he is happy with the results as Pvt. Ori Megidish is "well mentally and physically" and reunited with her family.
He added that Megidish has also provided information about her captivity with Israeli intelligence officers which "can be used for the future."
Conricus did not share if there were other such operations planned based on existing intelligence on the exact whereabouts of the remaining hostages, but told CNN "we are definitely committed to get all of our 238 hostages currently held by Hamas in Gaza, all of them, to get them home."
He alleged that Hamas is indulging in psychological warfare by using hostages as leverage.
Conricus pushed back on claims that Israel's ground operations in northern Gaza would potentially have a negative impact on hostage negotiations, saying that based on the rescue of Pvt. Ori Megidish, "I would argue that the reality on the ground dictates differently."
Conricus, who did not rule out other potential hostage rescue missions in the future, told CNN that Israeli forces on the ground are expecting "fierce resistance" and "tunnel warfare, booby traps, IEDS, anti-tank mines, snipers, and many other things," but so far "progress is good."
He added that the Israeli military is making "considerable efforts, now in the ground warfare, to distinguish between combatants and non-combatant," adding that they are "moving slowly and deliberately."
This post has been updated to reflect the latest statements from the IDF.